First off, I'm over on the SFWA blog, talking about
My Journey into SFWA
as part of the 50th anniversary blog tour! You can see the rest of the tour
here
.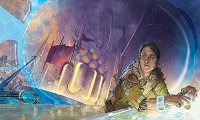 Next, IGMS has compiled a
free sample issue
. You can read it online or download a .mobi or .epub. It's an awesome collection. The first story, "Sojourn for Ephah" by Marina J. Lostetter, is a favorite of mine. It's worth downloading for that alone, though there's a ton of other goodness packed in -- some of the best science fiction and fantasy from IGMS history.
Lastly, I
won't
be making it to WorldCon this year, unfortunately. But I
will
be at Salt Lake Comic Con in September, which I'm very much looking forward to. If you haven't been, Salt Lake Comic Con is huge and bustling and amazing. Hope to see you there!